Infinity Care
We are a team of Canadian Certified Pedorthists who specialize in Pedorthic care, offering conservative solutions to alleviate pain and enhance comfort and mobility.
In 2015, Gaetan Girard had a vision of raising the bar for Pedorthic care and orthotic manufacturing. Based on his years of experience in the field, he dared to question, 'What if?'
What if an orthotic lab could provide a fully custom made, hand crafted device made with precision, unsurpassed quality and consistency?
What if an orthotic lab allowed full visibility to anyone who came through the door?
What if an orthotic lab operated within a full service Pedorthic centre that employed a team of Certified Pedorthists providing optimal customer care?
The answers to these questions was the inception of Infinity Orthotic Centre.
Under Gaetan's leadership and strong value of integrity, Infinity's model of integrated care provides patients with options for pain management but also a path for preventative wellness. We do not want just happy feet, we want happy people.
Read More
Infinity strives to uphold a philosophy that puts the customer first. We value having flexibility in the services we offer and customizing how to best serve our customers beginning right at the initial assessment. We emphasize patient education and believe the better informed a customer is about their condition, foot type and footwear, the better they can make a decision towards optimal health. One of our strongest mandates at Infinity is the continuation of our own education, personal and professional evolution and progress. We are passionate about learning and embrace the pursuit of knowledge in regards to new clinical best practices, technologies, techniques and philosophies.
Our Infinity team is mindful that individuals matter. You matter. The connections we make and the relationships we can foster allow us to better support one another and the community at large. We are grounded by underlying values of respect and empathy and we strive to help make people better, one step at a time.
Our Mission
To Honour the connections of a committed treatment process with a dedication to excellence.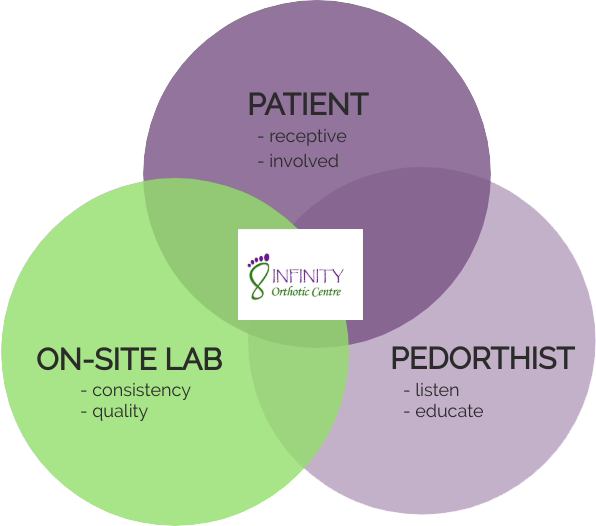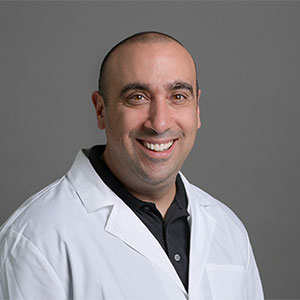 Gaetan Girard
Owner, Canadian Certified Pedorthist
Read More
With over 20 years experience in the Pedorthic industry, Gaetan has helped countless people regain their mobility and live a happier, healthier life! He officially opened his own state of the art orthotics lab in 2015 and since has grown to open the brand new Infinity Orthotic Centre full service Pedorthic Clinic in Cambridge in 2018. He is proud to have put together such a strong and dedicated team to provide exceptional Pedorthic care to all our clients. Within the first few minutes of conversation with Gaetan, you'll realize the passion he has for the Orthotics he creates. He has always been a student of Pedorthics and is constantly learning new techniques and honing the skills he has. He has mentored many students gain their Pedorthics certification and is constantly on the lookout for eager new students he can train. In his spare time he can be found spending time with his wife, young daughter and dog at his cottage; his home away from home.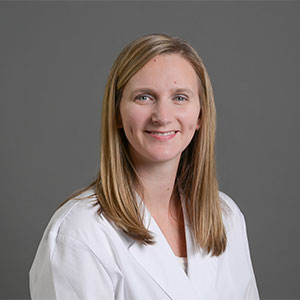 Jennifer John
Canadian Certified Pedorthist
Read More
Jenn graduated from the University of Western Ontario in 2005 with an Honours Bachelor of Arts degree in Kinesiology. She achieved her Canadian Certified Pedorthist designation in 2007 and grew professionally to manage an established pedorthic clinic in the Waterloo region for 9 years. Jenn happily joined the Infinity Orthotic Centre team in 2018 and is excited to be working with such a diverse, dedicated and hardworking team. Jenn enjoys treating all foot, ankle and lower limb conditions. Over the last decade she has taken a special interest in helping those suffering from knee pain, specifically those dealing with early onset osteoarthritis. She feels strongly that taking the extra time to fully educate a client is the most important part of her assessment because clearly comprehending what is contributing to their condition is the foundation to building an effective treatment plan.
Jenn lives in Cambridge with her husband and 2 young daughters. She enjoys playing recreational basketball and ringette and spending quality time with family.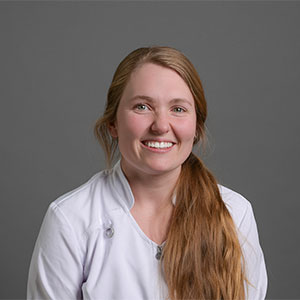 Alyssa Milton
Canadian Certified Pedorthist
Read More
Alyssa graduated from Western University in 2015 with an Honours Bachelor of Arts in Kinesiology, where she also played Varsity Field Hockey. She received her Canadian Certified Pedorthist designation in 2016, after completing Western's Pedorthic Diploma Program
Growing up playing various sports including; hockey, soccer, baseball and field hockey, has influenced Alyssa's passion for health and staying active. Pedorthics has allowed Alyssa to transfer that passion to others by helping them reach their goals of increasing or maintaining healthy activity levels.
Alyssa enjoys working with patients to alleviate their foot, ankle and lower limb, pain through the various treatment options available. Determining a treatment plan that matches her patient's lifestyle that will allow for compliance is very important to her.
Currently Alyssa enjoys participating in various Run Waterloo races when time allows her to do so.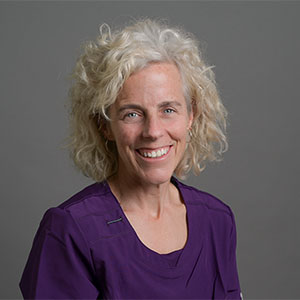 Casey Gilbert
Lab Technician, Canadian Certified Pedorthist
Read More
As a graduate of Honours Kinesiology from the University of Waterloo and having over 20 years of experience working as a Pedorthist, Casey is thrilled to have found such a dynamic and progressive environment to continue her career manufacturing custom made orthotics. Casey began work as a Certified Pedorthist in 1994 in Toronto at Sunnybrook Hospital. That experience sparked a love for learning more about the field and the intricacies involved in helping people achieve greater comfort and improved mechanics. She became certified as both a Pedorthic Technician and Certified Pedorthist. Subsequently, Casey volunteered for many years with the Pedorthic Association of Canada primarily in the area of examination and certification as well as being part of the team that began efforts to found and establish the College of Pedorthics.
Casey is interested in achieving a balance of good health, harmony and humour while raising two spunky and engaging daughters. Casey is passionate about activity and fitness and enjoys running in the rain, finding a place amongst regulars at the gym and (leaning towards) finding moments of mindfulness. You can find Casey starting the day, up with the sun and humming some broadway tunes.